Services

References

Contact

INTEGRATED SERVICES – TECHNICAL SERVICE

Reference Projects

Here you will find a selection of our reference projects in the field of Technical Service.

Contact us for further in-depth information in a personal conversation.

PROTEC Facility Solutions Contact

PROTEC Facility Solutions GmbH

Ludwig-Erhard-Straße  35

64653 Lorsch
PROTEC Facility Solutions – guarantee´s technical functionality
The PROTEC Facility Solutions Team provides
efficient and profitable management and
smooth operation of the technical and structural facilitie components.
PROTEC Facility Solutions – Performing Services
The Service » Maintenance and Inspection
assures compliance with the latest regulatory and technical standards for building and facility operation.
The Service » Repair
offers best technical solutions to add value and ensure lasting value to facilities.
The Service » Special Plant Construction
provides flexibility in equipment expansion and new complex technical systems.
Service on all technical matters
qualified and motivated personnel
technologie according to the latest state of the art
continious quality management
PROTEC Maintenance and Inspection
PROTEC Facility Solution – partner for complex maintenance and inspection contracts
Technical Planning and Staging of Maintenance and Inspection
PROTEC Facility Solutions sets standards for management and technical implementation of complex maintenance contracts.
Professional maintenance and inspection of technical equipment and systems.
Standard-compliant and financially optimized monitoring.
Optimized teamwork of administrative and operational maintenance staff.
Technologies, according to the latest state of the art.
Experience in dealing with facility-specific utilization concepts.
Safety Tests
PROTEC Facility Solutions offer service and maintenance:
standard building technologies
safety inspections according to accident prevention regulations, E.g.
BGV (workers association safety guidelines/German equivalent to OSHA)
fire alarm systems according DIN 14675
and for other special purposes.
Measurement and Analysis Procedures
State of the art measurement technology with testing, evaluation and analysis options. Thermal imaging cameras and special equipment help to identify heat loss, leakage and overheating.
PROTEC Facility Solutions ensures error detection on expendable parts to prevent outages from occuring, saving time and money.
Legal requirements
The PROTEC Facility Solutions team maintains up-to-date information on all new changes to legal and technical matters.
PROTEC Facility Solutions offers timely information about:
modified requirements and regulations
new developments
potential energy savings
This can and will be included in routine maintenance.
Total Package Contracts
Optimal facility and plant operation from PROTEC Facility Solutions collective capabilities is advantagious:
highly qualified personnel
knowledge of your real estate
transparency in maintenance
experienced contact person
Umbrella contracts for individual technical trades or complete systems.
PROTEC Facility Solutions – partner for complex repairs of technical equipment
Competencies
PROTEC Facility Solutions expertise, with inhouse qualified personnel, include services in the areas
structural and technical building restoration and
system repair of all electrical, heating, ventilation, air conditioning, plumbing and sanitary up to energy/heating systems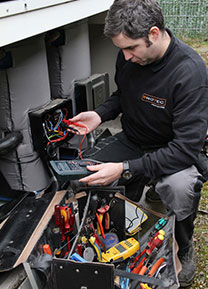 Solutions
PROTEC Facility Solutions offers the best solutions to increase value and sustain lasting plant value.
cost estimates
investment advice
PROTEC Special Plant Construction
PROTEC Facility Solutions – engineering and plant inventory expansion
The PROTEC Facility Solutions service for special engineering and minor construction includes plant expansion to optimize:
HVAC

split systems
refrigeration technology for supermarkets
changing of components for energie saving
etc.

power supply

UPS units
electric generators
etc.

existing facility expansion and optimization